Arthur's car designs, including some of their successes during his lifetime.
One of the wonderful features of Arthur's designs was that it was nearly always possible to upgrade from one MK to the next through relatively simple changes to item such as body panels and suspension pick up point or parts. This enables customers to enjoy many seasons of competitive racing by developing their original cars. A great example of this is the Norrie Galbraith MK8, originally built in 1969m which by 1977 was up to MK16 specification and fast enough to win the Scottish Hillclimb Championship that year.
1944 Special "Bren" (EPG171)
Austin 7-based special built by Arthur, used as wartime family transport as well as in trials, sprints and hillclimbs during 1946.
Successes included: 1946 - Arthur Mallock, overall winner of the Yorkshire Trial, also the Darlington & District Swaledale.
Austin 7-based special originally built by Jack French to Arthur's specification. Designed as a trials / race car and used extensively from 1948 to 1957 with a variety of engines including Austin 7, 1172 Ford and 500cc Speedway JAP.
Successes included: 1947 - Arthur Mallock, overall winner of the 1947 Northern Experts Trial, 2 race wins at Tolthorpe. 1957 - Arthur Mallock FTD Bodiam Hill Climb.
1958 U2 MK1 - The Original U2
1172 Formula Car: Arthur's first design to use a spaceframe chassis using the running gear and 1172cc Ford engine from WJ1515. Ford Popular front axle split at centre to create swing axle, Austin Seven rear axle with Austin ¼ elliptic leaf springs. Only one complete car produced for 1172 Formula and raced by Arthur. Two replica chassis were sold.
Successes included: 1958 - Arthur Mallock, winner Ford Championship of Ireland. 1959 - Arthur Mallock 4 1172 wins.
Ultra-simple Austin 7 based 750cc Trials Special. Believed to be the first to use "Fiddle Brakes", campaigned very successfully by Arthur, Mick Paris and Derek Godfrey. 1959 to 1963 including the 750 MC Trials championship in 1960 for Mick Paris.
Fiddle brakes: two separate hand brake levers on the outside of the body, adjacent to the steering wheel, which allowed independent application of each rear brake thus vastly improving traction and manoeurvrability.
Formula Junior, 1172 Formula and sports racing car. Two were built as Formula Juniors (for Arthur and John Harwood) and approximately 10 for 1172 Formula and sports car racing, some of these chassis were also used in Formula Junior during 1961 & 1962
The design retained the Ford Popular central pivot front axle system, the rear axle was now from Morris Minor but still using Austin 7 ¼ elliptic rear leaf springs. Both 1960 Formula Juniors used Ford 105E engines mated to Austin Healy Sprite gearboxes.
Note: the scrutineers, particularly in Europe, did not like the box like, slab sided appearance of the U2 even though it fully complied with FJ regulations. In an effort to appease the scrutineers, Harwood heavily modified his chassis for the 1961 season with a more rounded appearance. The above image is from Zandvoort in 1961 with Arthur's car retaining it's original chassis shape and the Harwood car on the right with it's more rounded modification.
Successes included: 1960 - John Harwood U2-2 Formula Junior win at Nurburgring in October. Arthur Mallock U2-1 Formula Junior win at Silverstone in September. These 1960 Formula Junior successes were considered outstanding for what were essentially home-built specials against professionally built and much more expensive Lotuses, Coopers, Lolas etc. 1962 - Arthur Mallock 1172 Formula champion in U2-1 fitted with mudguards and side valve engine. 1981 - Mike Harrison U2-1 Europeans Historic Formula Junior Champion.
1172 Formula car - all new design, but few built (one for Arthur). Significant changes from MK2 included coil springs at the rear to replace the leaf springs along with Panhard rod for lateral location and four trailing arms for longitudinal location. At the front, the swing axles were crossed over for the first time, in place of the central pivot.
Successes included: Arthur Mallock 1171 Formula Champion.
Sports-racing car and Formula 3 car - updated version of the MK3 of Formula 3 (Arthur) using the chassis from his MK3.
Successes included: David Wragg, 2 wins and one lap record in 1000cc Sports Cars (this was the year before the Clubmans formula was established).
Clubmans Formula car - a development of the MK4: approximately six customer cars built. Arthur's car was another re-work of the chassis that had started as MK3. Torsional rigidity of 1500 ftlbs/deg (unpanelled).
Successes included: 1965 - David Wragg, Radio Caroline Champion (The inaugural year of Clubmans Formula). 1969 - Geoff Bremner 1172 Formula Champion,
Clubmans Formula car - a development of the MK5 with wider track and externally mounted rear radius arms. Possibly as many as 15 customer cars sold.
Successes included: multiple Clubmans formula wins in the hands of drivers such as Vernon Davies, David Darby and Jeremy Lord.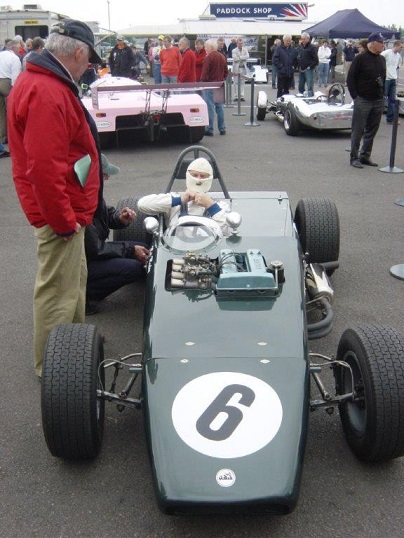 Clubmans Formula and Formula 2 car (with a change of engine and removal of mud-guards) - a development of the MK6.
Successes included multiple Clubmans formula wins for various drivers including Max Mosley.
One-off road car built by Richard with a wider chassis and then raced by him in both sports car and Formula Ford events.
Formula Ford car featuring a narrower chassis and, for the first-time, wishbone front suspension replacing swing axles. Only one ever built - owned and raced by Richard.
Successes included: Multiple race wins in UK FF. Second only in terms of race wins to Tim Schenken Merlyn MK11.
Clubmans Formula car using a wider version of the MK7 chassis: a popular car and up to a dozen cars were sold, mostly for Clubmans but also used in Formula Ford.
Successes included: multiple Clubmans formula wins for various drivers including Jeremy Lord, Vernon Davies.
Clubmans Formula car: an update of the successful MK8 and the first production Mallock car to have a wedge-shaped tail and typically a pair of aerofoils mounted on the nose cone.
Successes included: 1970 - Ray Mallock, Peter Wingfield Champion. 1971 - Robert Glass, Peter Wingfield Champion. 1974 - Martyn Griffiths, Woking Motors Leaders Hill Climb Champion.
Formula Ford car: probably four or five built over several seasons. This was the last car to have a round tail. Updated to MK9B in 1971 and a third was the MK9DD which was a De Dion back axle version, wedge shape-tail and "shark" nose.
Successes included: 9 wins and 3 lap records for Richard in 1971 and the first ever 100mph UK FF average set by Richard on Silverstone GP circuit.
One-off road car based on widened MK8 chassis.